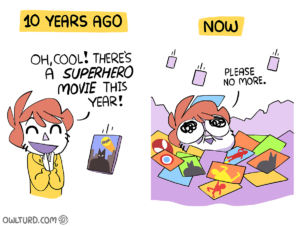 On the 12th of December 2015 I wrote Tipping Point. Are we there or have we passed it? during which I asked whether the 8 feature films due for release along with the numerous TV shows, live action and various animated titles being released in 2016 represented a tipping point for comic book related material, along with the 50+ titles that are due to be released or are in development between 2016 and 2020 represented a market reaching saturation point with the bubble and the wider publics taste in such material soon to burst and fade as whatever the next trend is takes flight.
Well writing as I am now in January 2017, it doesn't appear that that bubble is going to burst anytime soon, its stretched to the point that the once dark ballon is practically transparent and the sharp edges threaten to tear through at any moment but 2017 promises to be another bumper year for comic book fans. The list of titles being optioned, where studios buy up the rights to potentially make features or shows of the title, continues to grow but presently we do not appear to have any titles in development past 2020 when I wrote originally back in 2015.
2016 had 8 feature films dropping across various formats, cinema and VOD, in 2017 we get at least 9 features potentially hitting the cinema. Three titles from the MCU, Guardians Vol. 2 (April), Spider-Man: Homecoming (July) and Thor: Ragnarok (October).
The struggling DCEU has two features which lets face it are make or break for the studio in terms of general goodwill from the public and critics at large, even fans are struggling to defend the features. Wonder Woman and Justice League: Part 1, personally a horrible title, hit the silver screen in June and November respectively. Will all the behind the scenes issues that appear to be surrounding the DC films and the revolving door policy that seems to be effecting the Flash features directors chair this could well spell the end of the DCEU unless 2017 corrects the mistakes made over the past year.
As for the odds and sods, we have the highly anticipated Logan, apparently marking Hugh Jackmans final appearance as Wolverine, the potentially controversial Ghost In The Shell starring Scarlett Johansson, both in March and Kingsman: The Golden Circle in October but my personal favourite release has got to be Lego Batman in February which looks like it could be the best Batman related feature in many years.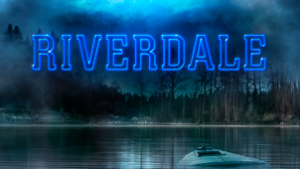 TV isn't much better with all of The CWs DC titles, Arrow, The Flash, Legends Of Tomorrow and Supergirl for anyone struggling to keep up, confirmed to return for new seasons in the latter half of the year. As well as their Archie update Riverdale which is due to air at the end of January.
The Marvel/Netflix stable continues to be full steam ahead with Iron Fist (March), The Punisher and The Defenders (both TBC) all dropping on the streaming platform this year. As does The Inhumans, which appears to have been shifted from a feature to an event/mini-series though the opening episode will be screened in cinemas in September.
The Fox/Marvel show Legion, that apparently has no connection to the X-Men features airs in February and sensibly runs for only eight episodes, that could change should the show be renewed. We also get the 3rd season of the long delayed iZombie in April along with the will it/won't it ever be released Powerless from DC in February. Depending on how that show does Marvel may eventually release/put in to production Damage Control which seems to have been in development for a few years now.
Other shows due to return though lacking release dates are the two Walking Dead shows, Preacher and Wynonna Earp. So this year alone we will definitely get 16 live action shows related to comic book material with at least 7 of those being 'NEW' to the airwaves, that figure could increase to 17 as at the time of writing there has been no confirmation that Agents of S.H.I.E.L.D.  will be renewed for a fifth season.
Now the reason I concluded that last sentence with 'live action' is because the animated shows and DTV features further muddy the waters. DC continue to dominate this marketplace, in much the same way they do with live action shows, this year will see the release of the animated feature Justice League Dark, that rather beautifully sees the return of Matt Ryan to the role of John Constantine and later in the year DC will follow that up with two more animated features Teen Titans: The Judas Contract and Batman and Harley Quinn, though neither have confirmed release dates at the time of writing. Speaking of Matt Ryan will again reprise his role in a web series, Constantine, from the same studio that brought us Vixen and which will thus tie the character to The CWs Arrowverse along with the in development Freedom Fighters: The Ray which is also due to air at some point this year, making Constantine the sixth show to fall under that umbrella.
Marvel however are not to be out done as at some point in 2017 we will get an animated spin-off from their 2014 feature Big Hero 6, and second season of Guardians of The Galaxy and a new Spider-Man series, simply titled Marvel's Spider-Man that will replace the Ultimate Spider-Man series that ran for four seasons along with some potential Rocket & Groot animated shorts though bugger all has been heard about that since some concept art appeared online all over a year ago.
One final mention must go to Nickelodeon's Teenage Mutant Ninja Turtles series which has been renewed for a fifth season and will likely air in the later half of the year as at the time of writing the fourth season was still airing, mostly due to animated shows not being as closely controlled by networks and episodes dropping randomly at times, often with a couple of months between new episodes.
I though this was getting out of hand in 2015, but 2017 just goes to show that studios and networks are going to continue to churn out shows, features and animation based on comic related material, there is the in built market, new generations of fans are born ever year and whilst they continue to make money and be profitable comic related material will be seen on a screen somewhere in one form or another.
In a side note we may also get two Death Note feature films, the US version and the 3rd Japanese feature, 'Light Up the New World' that was released in Japan last year. As well as an animated feature of Chew, that has been in development for a number of years and did have Robin Williams attached before his untimely death.