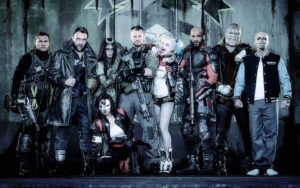 Part 1: Before
Is this do or die, make or break for the DCEU (DC Extended Universe), so far the films have failed to impress. Man Of Steel was a disappointing mess of ideas, Batman Vs Superman well here are my thoughts. The Squad has a lot riding on it especially after DC/Warner Bros. pulled the plug upon The Arrowverses fledgling Squad.
This fledgling Squad had hinted at Harley Quinn, Arrow has also featured versions of Katana and Captain Boomerang, though not as part of the Squad, and Deadshot as well as Amanda Waller and also included Bronze Tiger and Shrapnel in the team.
Clearly DC/Warner Bros. think they have a dynamite script on their hands to effectively tell The Arrowverse to pull the plug upon these recurring characters but the signs have not been great so far. There has definitely been a feeling that the cast have had fun whilst making the film, tattooing each other, with SKWAD and other behind the scenes antics including Jared Leto staying in character as The Joker, sending 'gifts' to his cast mates including live rats to Margot Robbie, but now reports have started to surface that there are/were two competing edits. And at the time of writing the film has a Rotten Tomatoes score of 29% and imdb has it at 7.7 out of 10, based on 16543 reviews/opinions even though the film hasn't been released worldwide yet.
As always I'll go in with an open mind but the trailers that were released during the films promotion were uneven in tone making it unclear what sort of film we will be getting and I draw particular issue with the sexualisation of Harley Quinn during one trailer where it appears an entire airforce base stands around and watches her get dressed.

Part 2: After
The film you get is far from the one that the trailers lead you to believe you are going to get, The Jokers prominence in the advertising leads you to believe that he is the main antagonist, sadly he's a secondary character at best. Leto is fine in the role but it's nothing special personally and the behind the scenes antics must have seriously got on the tits of everyone involved given the 20ish minutes of screen time The Joker has.
I found the tone of the film to be very uneven, obviously given either the character or the actors prominence then it wasn't exactly a no brainer that Deadshot and Harley were going to be the most significant members of the group. They command the majority of the screen time for the group but everyone gets a moment or line that allows them to shine. Except Slipknot, which is a shame as I really like Adam Beach, he was great in Smoke Signals and Flags of Our Fathers.
But that is the issue with the advertising, no clear indication of what the film is really about which isn't necessarily a bad thing in this day and age where trailers give away the majority of the plot and usually a big twist or reveal. As I've said the trailers lead you to believe that the film is about one thing but then it's about something completely different and we are used to scenes featuring in trailers that don't make the final cut but in the case of the SKWAD the majority of the trailers fail to make the film or are edited to within an inch of their lives.
The soundtrack is littered with rap, pop and classic rock tunes that play over huge chunks of the film, pretty much every character has song that plays over their introduction and becomes incessantly more annoying as the film progresses. As does the constant slow motion, I'm pretty certain that modern blockbusters would be about 10-15 minutes shorter if scenes played at their regular speed.
It's not all doom and gloom, it's just that the film is so 'meh', so much wasted promise. It's loud and brash and has moments of pure joy, Will Smith is clearly having a blast playing a badass and I love the 'gangster' feel to Killer Croc from Adewale Akinnuoye-Agbaje along with Diablo's barrio street thug turn from Jay Hernandez but for the love of god will someone please tell me why studios keep putting Jai Courtney (Captain Boomerang) in stuff.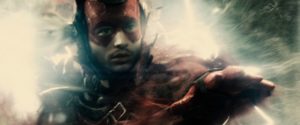 In the run up to the film it was also unclear where this film would fit in with Man of Steel and Batman V Superman, for anyone wondering, it is post BvS with a few flashbacks thrown in. The Batman scenes personally just add confusion to how long Batman has been active or inactive for his appearance in BvS to be such a surprise to Clark Kent, especially in light of director David Ayer stating that each member of the SKWAD has a personal vendetta against The Bat, only two of the villains are seen interacting with Batman and one is apprehended by The Flash (Ezra Millar). I hope that boy gets a solo feature as he's been in as many films as Batfleck at this point.
Another aspect that I really liked was the Dirty Dozen/Magnificent Seven not everyone survives to the end, though in this case their are obvious exceptions to this. Some we know going in are obviously going to survive through star power alone, whilst others are apparently going to be getting their own solo feature and others you think are going to survive don't.
In Conclusion
DC/Warner Bros. have got to pull their act together, Marvel are leaving them for dust. Whilst the MCU isn't exactly perfect and doesn't always flow fluidly it still holds together after a decade whereas the DCEU is a car crash of forced continuity and ideas after only three films. Whilst Suicide Squad didn't suck it didn't live up to the hype, that same hype that supposedly had studio executives giving BvS a standing ovation and signing Affleck on for a multi-picture deal with a shit load of creative control going forward. But for the love of god someone please show Zack Snyder the door or maybe Harley's oversized mallet now that Harley Quinn Smith has her baseball bat.