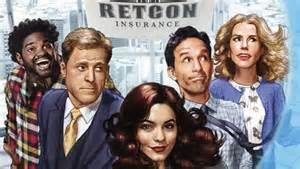 I'd given up hope of this ever hitting the airwaves, it seems to have been in development for well over a year and whilst I appreciate that it can take some time for a show to move from being optioned by a studio, particularly if its based upon pre-existing material, moving past the development stage and being ordered to Pilot stage. From there there is no guarantee that the show will even be picked up for a half or even full season.
The superhero landscape is littered with shows that never made it past the pilot stage. The 2011 Wonder Woman, the 2006 Aquaman and Marvel's Agents Of S.H.I.E.L.D. spin-off Most Wanted, to name three. All of which incidentally star Adrianne Palicki, that poor girl just can't catch a break as she also starred in the unsold pilot for The Robinsons: Lost in Space (2003) which was directed by John Woo.
Powerless was first announced in January 2016 and has taken just over a year to be broadcast, though there are reports of various behind the scenes issues with the shows original show runner leaving in August 2016 and the pilot episode that was shown at the 2016 San Diego Comic Con being almost completely reshot and its premise of a group working for an insurance company that has to deal with the fall-out from superhero battles being completely dropped. The new version of the show concerns a group of developers who design products to protect people from harm during superhero battles. Neither sound particularly appealing and given the laughter vacuum that surrounds the pilot that aired the original must have been terrible to warrant a complete overhaul.
The cast are fine, Vanessa Hudgens has that perky 'all American girl next door' quality as Emily Locke. Alan Tudyk is suitably self serving as her boss Van Wayne, Thomas Wayne's 'cousins, cousins, cousin'. As for the rest of the cast Danny Pudi, Christina Kirk and Ron Funches, as I'm not familiar with their body of work it's difficult to make any snap judgements as it's the pilot so they aren't given a lot to work with. The roles may dramatically  improve for everyone as the series progresses but from this laughter free vacuum I am not holding out much hope.
Given that sitcoms generally tend to work on the basis of stereotypes and impossibly thin plotting to get by I was hoping that given the rich comic book world in which this show would be working there would be more depth. In the opening episode there just isn't, a half arsed jab at Batman Vs Superman for its vague reasoning for the two heroes to be fighting is pretty thin for a show that trundles along for 22minutes with no direction.
It has already been established that this show isn't part of The CW Arrowverse, nor clearly the big screen universe of the DCEU. So it seems to almost be part of the Batman '66 universe, as although uncredited Adam West provides the show with its opening narration introducing us to the world of Wayne Security. Along with another DC alumni Marc McClure who is probably most famous for playing Jimmy Olsen to Christopher Reeves Superman.
This opening episode does not fill me with a great deal of hope for the series, iMDb currently has unto 10 episodes listed but as this appears to be relatively cheap to produce there could be more, I think this is the first time I have ever hoped that a series would get cancelled as I find it embarrassing for everyone involved and doesn't look good in the already muddied waters of DC related material, thank god for Arrow and company.
Given their relatively similar premises maybe Marvel are waiting to see how this show fairs before taking Damage Control forward, a show that seems to have been in development almost as long as Powerless.