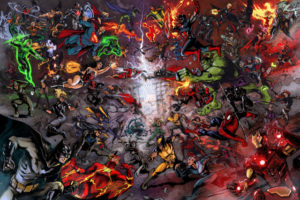 What's the difference between DC and Marvel films right now?
Well unless you really go at it and I mean really at it, most Marvel films tend to hold up pretty well under the microscope, even Iron Man 3 and the Thor's.
DC on the other hand seem to be a cluster fuck of ideas thrown at the wall with no thought about how they are all going to fit together in the long run to tell a cohesive story that builds over a series of films.
Marvel have steadily crafted their films, whereas DC seem desperate to put a universe together and have ultimately missed the potential of the characters they have in their catalogue. Marvel were working with D-list characters, you know the ones that no one would buy when the company entered bankruptcy in 1996/97, and have somehow become a media juggernaut on the back of them whilst the companies that own characters such as the Fantastic Four and Spider-Man just can't seem to get it right.
So what's the difference between DC and Marvel fans?
Marvel fans don't give a shit about extended cuts, the bonus scenes on the retail releases are just bonus cuts. With or without them the films get to the same place even if there might have been some behind the scenes issues. Mickey Rourke states that much of his performance from Iron Man 2 ended up on the cutting room floor, and Thor: The Dark World's director Alan Taylor stated that the film changed in post production. Whatever the issues the films tell there story without the need for extended cuts.
DC fans on the other hand seem to rely upon extended cuts to make sense of the film they have just watched, Batman V Superman being the obvious choice, if you can't tell a coherent story over 2 hours then your clearly doing something very, very wrong. Fans are also apparently clamouring for an extended cut of Suicide Squad due to the amount of footage that featured in the trailers but was no where to be seen in the cinema release.
As it stands at the moment Marvel are literally taking a crowbar to DC at the cinema and there seems to be no end in sight to the blood in the water, Marvel are sitting pretty on the beach as the sharks circle DC's punctured raft.